A FAIRY TALE- Gulliver Updated
|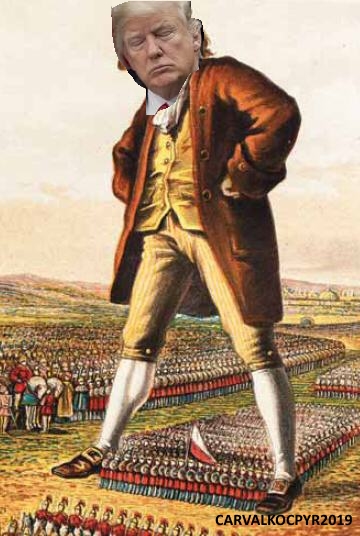 At first, the Lilliputians are hospitable to Trump. They are a people who revel in displays of authority and performances of power. Republican senators seem especially so impressed, but are also wary of the threat that his size poses to them. The Lilliputians reveal themselves to be a people who put great emphasis on trivial matters. For example, which end of an egg a person cracks becomes the basis of a deep political rift within that nation, some states turn from red to blue.

But as much as they trifle on the inane, Lilliputians easily ignore that Russia, the nations mortal enemy, actually helped Trump journey from Gotham to his castle in the hamlet referred to as the District of Columbia. They overlook this fact, and show support when Trump thwarts political freedoms, such as gerrymandering elections, taking away health care, and denying them the company of immigrants. However, he fails in delivering the nation, as a province, to the old Soviet Union, greatly displeasing his idol Vladimir Putin.

Trump's failure to convey the U.S. to Putin, causes the latter to stand idly by as Trump is impeached for, among other crimes, urinating on the nation, claiming he was putting out a fire. He is not convicted, but enough non-Lilliputians vote in the next election, so that he is forced from his throne. He slithers out of DC in the middle of the night and heads for Mar-a-Lagos. There he retires among his remaining sycophants, minus a few toadies, who either went to prison, or committed suicide– in jail.