CONSERVING HUMANITY at the DAWN OF POSTHUMAN TECHNOLOGY
|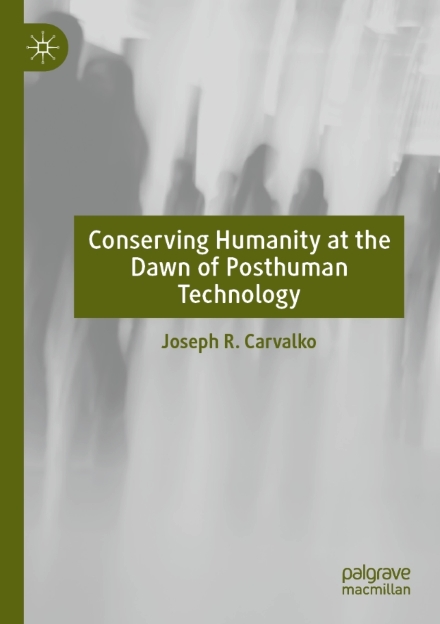 Carvalko examines the latest scientific and technological developments likely to shape our post-human future. Using a multidisciplinary approach he details the latest gene engineering technologies that will lead to increases in human intellect and artificial intelligence that will augment the powers of the human mind. He argues that we stand at the precipice of an evolutionary change caused by genetic engineering and anatomically embedded digital and informational technologies. Delving into current scientific initiatives he posits the emergence of super smart individuals with unique creative capacities. He draws on technology, psychology and philosophy to consider humans-as-they-are relative to autonomy, creativity, and their place in a future shared with 'post humans.' The book surveys the current state of bioethics and technology law, both which policymakers, beset by a torrent of revolutionary advances in bioengineering, are attempting to steer. Significantly, Carvalko addresses why we must both preserve the narratives that brought us to this moment and continue to express our humanity through, music, art, and literature, to ensure that, as a uniquely creative species, we don't simply vanish in the ether of an evolution brought about by our own technology.
ENDORSEMENTS
"From Homo sapiens to Homo futuro, Carvalko tracks our posthuman trajectory beginning with everything that defines us as "being." Who or what will remain given our insatiable desire to keep innovating, even at the expense of our very selves? He asks that vital question: "is this path what we claim as our humanity?" A gripping depiction of a technological roadmap based on confluence incorporating societal repercussions, and the role of policy and ethics. Carvalko is an engineer and lawyer who interweaves his practice with wisdom and storytelling. A must read."
—Katina Michael, Professor in the School for the Future of Innovation in Society and the School of Computing, Informatics and Decision Systems Engineering, at Arizona State University, USA, and Founding Editor-in-Chief of IEEE Transactions on Technology and Society.
"Joseph Carvalko offers the reader a masterfully presented monograph, bringing together philosophical, historical, scientific and technological perspectives of 'post-human' in an engaging and illuminating fashion. Through a multi-disciplinary treatment of the subject matter, the author guides the reader through the changing nature of 'creativity' and technology's effects on human dignity as we inch toward a trans- and post-human existence that is akin to a science fiction novel, in which trans-humans, cyborgs and humanoid robots are commonplace. This book is a must-read for practitioners, scholars, students and those interested in the tensions between technological progress, creativity and ethics. Highly recommended!"
—Roba Abbas, Lecturer in Operations and Digital Business, School of Management, and Operations and Marketing at the University of Wollongong, Australia, and Associate Editor of the IEEE Technology and Society Magazine.
"This is a deeply inspiring book, written by a technologist who is truly a humanist, a professor who talks simply like your dear friend drinking coffee with you, and a lawyer who doesn't let laws muddy your mind, making the legal concepts simple. But most importantly Carvalko's astonishing writerly hands gift us a book about major issues of our time, ones that can be easily understood in one sentence:  "My son, the answer to that question is in your hands."
—Da Chen, New York Times bestselling author of Colors of the Mountain, a memoir (1999).
"This is an important book. The author, Joseph Carvalko, understands the technical, legal and cultural aspects of our burgeoning high technology based on his experience as an engineer, an attorney, and musician of uncommon talent. He brings his polymathic perspective to issues that are more commonly addressed from only a single point of view. He wrestles with deep questions of our identity as human beings, and our future when our capacity to change our genome, our brains, and our bodies have increased beyond anything conceivable in prior eras. The future may be unknowable in detail, but it is certainly something we need to prepare for, so that we may steer in the direction of human freedom and flourishing. This book will help you ponder how we might accomplish that."
—Michael LaTorra, former Professor of English at New Mexico State University, USA, member of the Board of Directors of the Institute for Ethics and Emerging Technologies, and former Chair of Humanity Plus
"Carvalko brings a pragmatic look at the co-shaping entanglement of people and technologies characteristic of our age. In this timely contribution, he considers the various implications of this productive entanglement, including the ethical ones: what "personhood" means, what it means "to be human" is redefined by the technologies around. Carvalko's message is cautiously optimistic: technologies will never take away our humanity. But it is only in reflecting on the productive impact of technologies on people and drawing on our creativity that we can continuously rediscover the value of humanity in the technological age."
—Olya Kudina, postdoctoral researcher at Delft University of Technology, the Netherlands
"Your scientists were so preoccupied with whether or not they could that they didn't stop to think if they should." (Jurassic Park). Jeff Goldblum's famous line precisely sums up the premise of Carvalko's book: scientists never consider the second and third order of effects that arise from their discoveries. But new technologies always present a double-edged sword of promise and danger.  His well-researched book tackles the dilemma of how genetic engineering and artificial intelligence may fundamentally change what it means to be considered human, and whether creativity is a trait exclusive to the non-technically enhanced human.
—Deborah Carr, DVM, Virginia-Maryland Regional College of Veterinary Medicine, M.P.H., Uniformed Services University of the Health Sciences, and MFA Fairfield University.