DÉJÀ VU Dateline: July 27, 2016
|
DÉJÀ VU
Dateline: July 27, 2016
For some reason the date yesterday kept bouncing around in my head. Maybe because it was that one year ago I gave a keynote address at a local ceremony, in Las Vegas, New Mexico to honor Korean War veterans, on the 62nd anniversary of the Armistice. I have always had a special place in my heart for these veterans, for lot's of reasons, first having been an impressionable paperboy during that war, where I read headlines every day about its brutality, or because I served with dozens of G.I.s, who had served in Korea. These guys, mostly my NCOs and Officers, had an inner strength, a grit. It was part of the Cold War, the one that ran bloody hot, leaving in its wake 36,516 GIs dead, 92,134 wounded, 4,759 missing in action and of the 7,190 American prisoners, 3,000 whom died in captivity, 43% largely of starvation, and at least 1,000 POWs who were left behind in North Korea. Years later I took the U.S. government to task for this later disgrace. It was in July, July 19, 1983, a day that started out hot and sultry. It did not keep the spectators away from the U.S. District Court in Hartford, Connecticut. That's a story I'd written about a few years ago in, We Were Beautiful Once, Chapters from a Cold War.
Yesterday,  I heard, like most Americans, a candidate for president invite the Russians to hack emails of American citizens. I was insulted, because I knew that except for a brief time, since the end of WWII, we have been at odds with Russia, for the nearly 50 odd years we fought the Cold War, and over the past dozen or so when it seems the former Soviet Union's seat of power has reverted, quite remarkably to its Cold War dictatorship and its international hegemonic tactics.
So, I found myself going down this trail, reminded about Russia and the Cold War, which brought me back the mid-50s and 60s, to my outfit, the 307th Bomb Wing, Strategic Air Command, Lincoln AFB,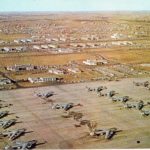 were I worked on the flight line as a gunnery mechanic. And, it's hard not to think about those days, and not be reminded of  the men we lost flying bombers to defend the country.
6 April 1956, a little over two years before I was assigned to the wing, a B-47 went down killing Captain James Sullivan, Lt Anthony Marcanti, Lt Lawrence Schmidt, and A1C James J Berry. That same year, 28 July 1956, another B-47 accident kill the entire crew: Captain Russel Bowling; 2/Lt. Carroll Kalberg; Observer, 1/Lt. Micheal Selmo and A&E Technician, T/Sgt. John Ulrich from my squadron. 10 October 1956, fifty 307th Bomb Wing personnel were lost aboard a Navy C-118 on route to the Azores. A week long air/sea search found two empty life rafts off the coast of Spain. Nine Navy crew members were also lost. 17 November 1956, an Air National Guard F-80 fighter jet, crashed into the flight line's fuel pits, striking two parked B-47s bombers. The F-80 pilot and two ground crew were killed, four others were injured. Others that died were: A1C John Delancey, A2C Donald Price. A1C Roger Smith and A2C Melvin Werschky, who were refueling the second B-47, escaped with burns. 18 February 1958, a B-47 jettisoned both fuel tanks following a heavy weight takeoff. The number 2 and 3 engines caught fire and a wing overheated. One fuel tank hit a hanger and the other struck a B-47, killing the crew chief and a repairman from my squadron. 8 October 1959, a B-47, jet assisted takeoff crashed. Major Paul Ecelbarger, 1/Lt Joseph Morrisey Jr, Captain Lucian Nowlin, and Captain Theodore Tallmadge were killed. 18 June 1961, a B-47, making a southbound night takeoff was unable to attain flying speed and crashed south of the runway: Captain Russell Holst, Captain Albert Marinich and Captain Allan Matson lost their lives.
22 October 1962, the Cuban Missile Crisis brought a yellow alert, and ordered the 307th Bomb Wing aircraft to civilian airfields. After deploying the planes, we at the base augmented the security forces. Every aircraft that remained, had a guard assigned around the clock. Crews who dispersed to civilian fields were on their own, and had to rely on patriotic resourcefulness. Several aircraft commanders had to pay for the 10000 gallons or so that their bird devoured, out of their own bank accounts.
3 February 1963, while landing in a snowstorm, a B-47 was being wrestled to the ground by its pilot. The copilot, Captain Richard West ejected, but his seat malfunctioned and was killed.7 March 1963, a B-47 caught fire on the aft fuselage during take off. Major Jim Meeks was killed in a fiery crash, before he could eject, but after he held the aircraft under control, while his crew bailed out. 27 July 1964, a B-47, in a southbound takeoff failed to accelerate to flying speed and crashed off the end of the runway. Captain Thomas Sutton, 1/Lt David Williams, 1/Lt Terrance Murphy, and Major John Sakry, all perished.
Ahh, then it dawned on me, 27 July 1964, the same day as the crash, I was driving to the base and I saw the plume. I stopped my car on the road leading to the gate. My instinct was to run to the scene. Then I heard the sirens and knew that there was little I could do but get in the way. I proceeded on my way to the next order of business. After 1,730 days, or nearly 5 years, I was finally mustering out. After I picked up my discharge papers that day, I headed back east, but my heart was left back there somewhere on the flight line, where I'd spent so many of those days, Nebraska's hottest and coldest, often boring–and so many days, when lives were lost.
And yesterday, as I pondered that date, 27 July, and the poignancy it's played in my past, I thought about how disgraceful, that a candidate for president, one who dodged the draft during the Cold War, should invite the Russians to hack American emails.