PIECE OF ME- Not an Obit, but a Reflection.
|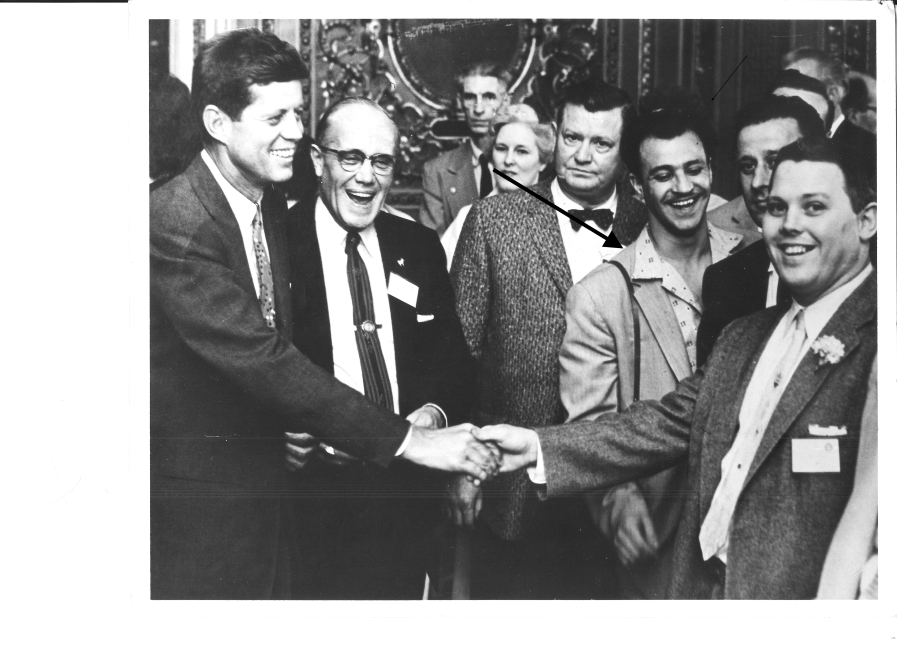 My Dad was born of immigrants, 1921, in Attleboro, Massachusetts. As a kid he lived in New York, during the depression, working on a bakery truck before school. He married at 18, had me,  and at 23 went to war. He saw life, probably not to different from the way young men in his time and place saw it, as something hard. After the war, he returned to Bridgeport, and worked in the same factory for over forty years, lived in the same house until he died, sixty years later. We are cast by genes and shaped in childhood, together channeling how we survive and become "someone" at the same time. Until he got old, he was a tough guy, impossible to get close to, at times feared.  But, hate him or love him, he was the genuine article.
In 1944, Joe marched into and then left Rome the way he came in, with the 5th Army —trekking north and west. Many mountains would be left to cross, many battles left to fight in what became known as "The Apennine Winter," where so many died. As a kid I turned the pages of a scrapbook my mother kept, pictures of GI's in fatigues, in the background, a Howitzer, ravaged villages, red tiled roofs half gone, mountains obscured by fog, rain or snow. On the reverse side of the pictures were words "Hi Lucy, here we are in the mountains,—give Joey a kiss and remember I love you— Joe."
When the war ended the depression was coming to an end, too. Folks could see their way into a middle working class.  My mother had lived in Italy as a kid, and between the two of them, by the time I was ten, they'd indoctrinated me into the virtues of Michelangelo, Da Vinci and Caruso. I played the accordion and all the Neapolitan songs. I recognized Paliachi when I heard it, and knew the greater Italian landscape better than the U.S. It's impossible to see as a kid where all this would lead.
He began his union activities in the late 40's in a sweat shop, rising through the ranks and eventually union president for the next 40 plus years. He went on to head 40,000 workers in the AFL-CIO Bridgeport Labor Council. Year after year, he took the rank and file through contract negotiations, slow downs, strikes, wildcat walkouts, picket line confrontations with the police. He helped organize Stewart Warner subsidiaries around the country demanding retirement benefits and better wages. He was, to put is delicately, confrontational, profane, defiant and belligerent. He never left anyone with an ambivalent feeling or not knowing where he stood. During supper every night, we relived every last detail of the day's clashes.
In January 1957, the U.S. Senate Select Committee on Labor and Management Practices Committee, with a young arrogant Robert Kennedy and crooked lawyer Roy Cohen, of modern notoriety, the government went after Jimmy Hoffa and the Teamsters Union, causing the AFL-CIO to expel them. Joe went to watch the hearings, and found time to meet Senator John F. Kennedy, where he expressed his dissatisfaction with his brother's anti union campaign. By the end of the 50's wages had reached an all time high, the workday had been negotiated downward, with paid holidays and vacations.
I knew Joe better than I'd come to know any man in the world, even better than my own son. I do not know if this fact is universal; that a man will know his father better than he will know his child. Growing up, it's impossible for a child not to become part and parcel of its parents, their aspirations, expectations, attitudes and passions. And although, I never knew my father beneath or above a certain level, I inherited and learned from him more than something superficial. And, like him, I take full responsibility for what I do and how I think, but I can't ignore he is somewhere inside me. For that I am grateful.