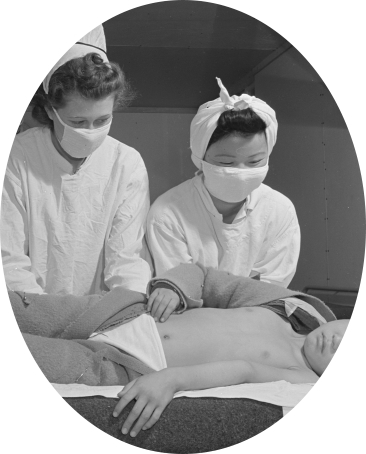 As I write today sheltered in place, out there somewhere nurses, doctors, and medical attendants are working around the clock at their peril ministering to those caught up in a contagion that's spreading around the world.
I'm reminded of someone, who in 1952 quit her job, operating a 25,000 pound punch-press at the one of the grease filled factories that framed my hometown, for one that exposed her to another sort of peril—nursing.
It was a time when medicine had yet to halt deadly diseases like polio or tuberculosis. In our town those with contagious disease, meningitis, polio, encephalitis, and syphilis in its final stages, were sent to Englewood Hospital, a place I'd visit in another chapter of my life. On any given day, this woman, we'll call her Lucy, would walk down a marbled hallway with her next assignment in mind. She'd enter a small room off the nurse's station and slip into a white medical coverall, which would seal her from her feet to her neck, the kind of protection a medical professional needs to steal into a room with a yellow sign with black letters that read: 'Caution, Infectious Meningitis- Do Not Enter, Authorized Medical Staff Only.'
Lucy'd dutifully tie a white mask around her face, force a latex glove on each hand—then walk a few feet where she'd penetrate a dimly lite room, where a small figure of a five year old might lay still, fevered, unresponsive to her greeting— the girl would likely be sleeping in the deepness of her illness—near the kind of death saints have trouble explaining.  She'd lift the curtained space around the child, lift the linen sheet, remove the paper thin gown, and proceed to bath her little body, gently plying a warm soap and water solution she'd mixed, before patting dry the child's tender flesh. When she finished bathing the young girl, she'd replace her gown, change the soiled linen and put everything into a special sack for disposal. She'd leave the way she entered, quietly, exchanging nothing of material value, not expecting nor receiving anything more or less than the hope that a life might see another day.
As a child, what Lucy did every day passed without so much as the slightest disruption to my life.  Only now do I appreciate how often heroes pass in and out of this world unseen. Especially today let's open our eyes to the nurses, doctors, and medical attendants within our midst, those working around the clock— calming the sick, rescuing lives, and dignifying our humanity, even when all else seems to fail.